About Edge of Yesterday
It's About Time
What if a runaway science fair scheme and your parents' smart device suddenly gave you the power to bend time?
When science-smart Charley Morton decides to build Leonardo da Vinci's futuristic designs for a time machine for the middle school science fair, her secret plan is to take it for a spin. Her dream: to meet her Renaissance hero and learn the secrets of his success.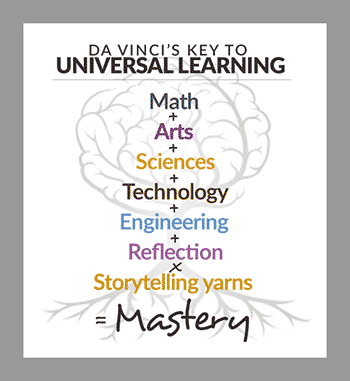 But the past proves a treacherous place for girls with brains and a smart device from a future that da Vinci, himself, can't wait to try out!
Edge of Yesterday aims to transform learning through story, interactive engagement and hands-on experiences. The mission: to inspire young people to pursue their dreams.
But, as Charley notes, "It is not enough to dream; we must do!"
Three Rules for Dreamers and Doers:
Listen to your heart
Believe anything is possible
Don't just dream: DO!
The multimedia novel and spinoffs, including an online learning platform designed to integrate academics and social and emotional skills—creativity, curiosity, discovery, collaboration and self-regulation to build MASTERY.